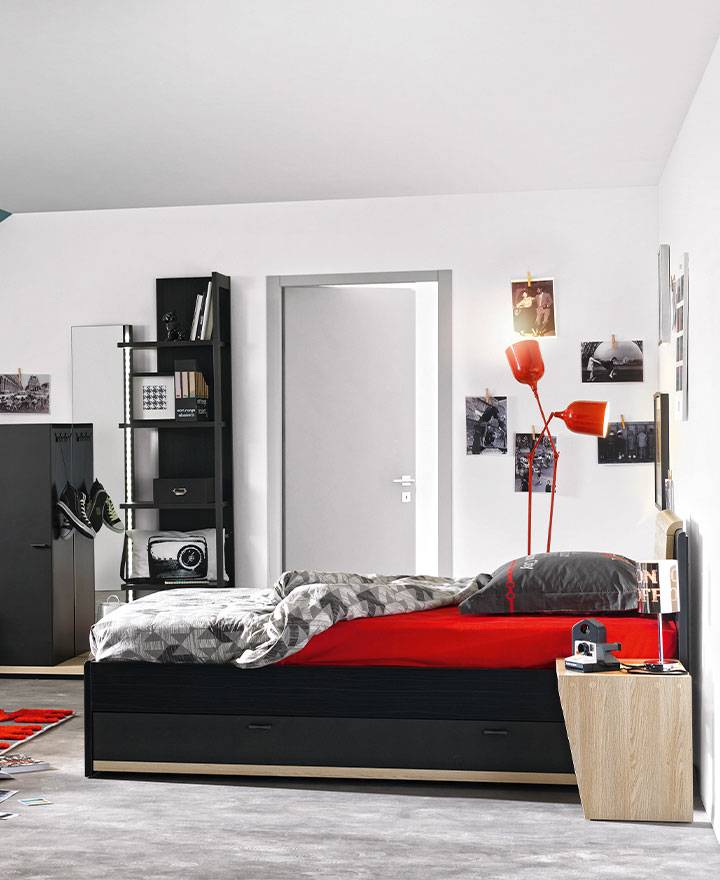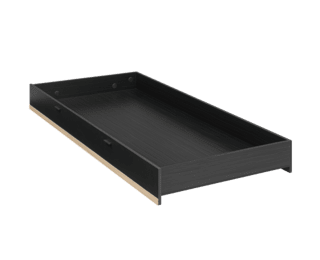 Want to see it in your home in augmented reality?
Display the 3D view on your mobile and activate augmented reality to visualise this piece of furniture in your room.
Click on the cube icon below the product image and wait until the module loads
Click on the blue icon visible on the 3D image. Soon you'll see your furniture in your room!
Finish Black wave
Dimensions
Features and dimensions
Reference
1A12400
Materials
Frame made from particleboard covered with frosted black wave melamine. Desktop, and bedside unit top and bottom made from particleboard covered with natural oak effect foil. 1 mm thick ABS edges with plain grooved black or natural oak side-grain effect foil. Inside of units made from particleboard covered with frosted plain black melamine. Drawer fronts and doors with structured graphite lacquer finish. Plain black or black wave effect slim edges. Additional part in 6mm lacquered fibreboard. Polyester UV varnish on the top of the desk and bedside unit. Clear silvered glass on the mirror, sliding wardrobe doors and 1 door clothes stand. Handles in graphite finish zamak, hook in black lacquer ABS. Wardrobe handle in steel with graphite epoxy paint finish. Drawer frames made from particleboard covered with plain black polypropylene (PP) on black roller drawer runners with soft-close mechanism. Black nylon castors.* All furniture is self-assembly except where marked * (fully assembled with possible exception of handles, floor protectors and castors). Can hold a mattress.
Details
Materials
Particleboard
Assembly
Meuble à monter soi-même
Weight
33 kg
Dimensions
W. 190 cm * H. 23 cm * D. 95 cm
Package sizes
Package 1: 22 x 7 x 196 cm (15 kg)
Package 2: 93 x 3 x 191 cm (18 kg)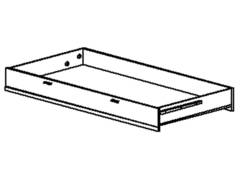 Download assembly instructions
Origin : France
Manufacturer: Gautier
Origin: France
Guarantee : 10 years
10 years warranty
The 10 years warranty applies to Gautier furniture.

GAUTIER will resolve, for free, any manufacturing defect which may arise following domestic and indoor use of the product, unless it was a display model.
The warranty is limited to the repair of any parts or furniture deemed faulty or the replacement thereof by a comparable product. Any other service or indemnity is excluded from the guarantee.
In the event that an original part cannot be provided (item out of stock), a compa-rable component or coating will be offered.
Ideal with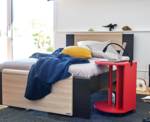 Find out more about this product
Continue on your computer or tablet to start a new project
Need some inspiration to create the cosy home of your dreams?
Let's imagine together the ideal room for your children
We support you to imagine your children's dream room: furniture, decoration ... A complete project from A to Z for a space in their image where they can fully develop.
We have plenty of advice, ideas and handy hints!
Why you'll love our underbed drawers
Our underbed drawers are extremely practical
Our underbed drawers are extremely practical. They are designed to maximise your storage by taking advantage of unused space. They help you create the clutter-free bedroom you've always dreamed of.
Our underbed drawers are cleverly designed
Our underbed drawers are designed to be a discreet addition to your bedroom while matching the rest of your furniture. They know how to go unnoticed yet be indispensable!
Our underbed drawers are robustly built
Our solid underbed drawers offer ample storage and are easy to access. Their strength and durability are the result of our expertise in contemporary furniture-making and the special care we take with the quality of our finishes