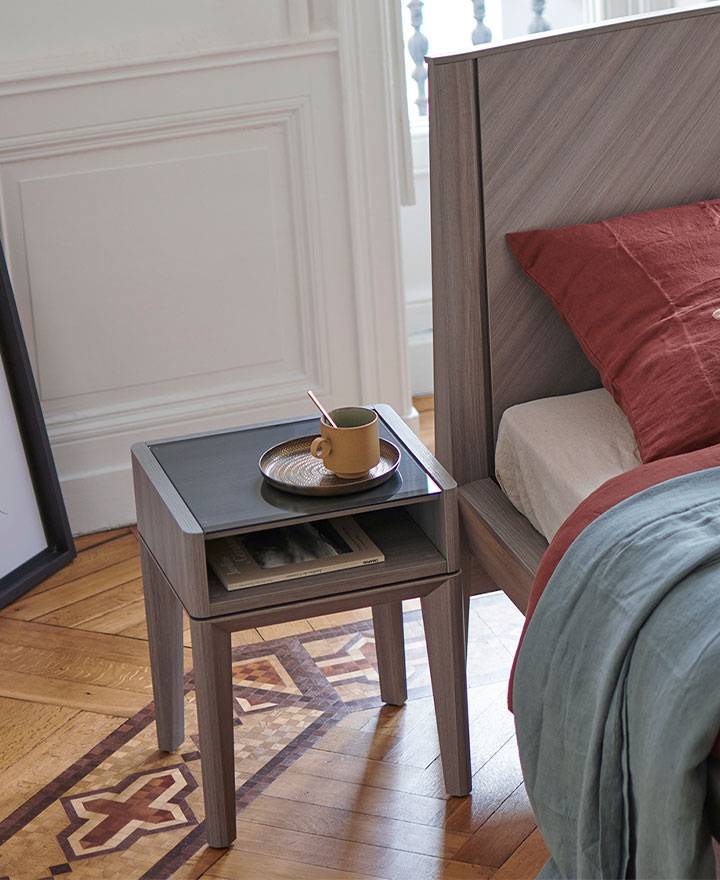 Montmartre bedside table on legs
A chic and refined bedside unit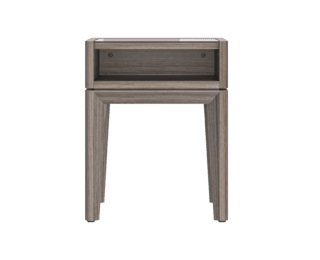 Want to see it in your home in augmented reality?
Display the 3D view on your mobile and activate augmented reality to visualise this piece of furniture in your room.
Click on the cube icon below the product image and wait until the module loads
Click on the blue icon visible on the 3D image. Soon you'll see your furniture in your room!
Product details
Love designer, practical bedside tables? The MONTMARTRE wood and glass bedside table is practical as well as stylish. Its slender legs and glass top give it a really lightweight and refined look. This small unit really stands out with its bold style. Combined with the MONTMARTRE bed, it brings a harmonious feel to your bedroom as both pieces boast a rounded shape and a vintage oak finish. This additional piece of furniture is also available in a different layout, with a drawer and a compartment.
Features and dimensions
Reference
1B80220
Materials
Frame and fronts made from particleboard covered with vintage oak melamine. Edges: flat or 1 mm thick vintage oak ABS. Surround and headboard mouldings made from fibreboard covered with vintage oak foil. Fibreboard legs covered with vintage oak foil. Fibreboard drawer frames covered with vintage oak foil. Height-adjustable hidden runners with soft-close mechanism. All furniture is self-assembly except where marked * (fully assembled with possible exception of handles, floor protectors and castors). Our company is introducing low-formaldehyde content panels to ensure a healthier living environment. This collection is made with engineered wood panels containing less than 4 mg of formaldehyde per 100 g, which is two times lower than the requirements of the strictest European standard (EN 13986). Smoked grey tempered glass on the top.
Details
| | |
| --- | --- |
| Materials | Particleboard |
| Assembly | Meuble à monter soi-même |
| Weight | 10 kg |
| Dimensions | W. 41 cm * H. 52 cm * D. 37 cm |
| Package sizes | Package 1: 38 x 16 x 48 cm (10 kg) |
Download assembly instructions
Origin : France
Manufacturer: Gautier
Origin: France
Guarantee : 10 years
10 years warranty
The 10 years warranty applies to Gautier furniture.

GAUTIER will resolve, for free, any manufacturing defect which may arise following domestic and indoor use of the product, unless it was a display model.
The warranty is limited to the repair of any parts or furniture deemed faulty or the replacement thereof by a comparable product. Any other service or indemnity is excluded from the guarantee.
In the event that an original part cannot be provided (item out of stock), a compa-rable component or coating will be offered.
Ideal with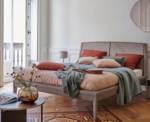 Find out more about this product
Find out more about this product
Continue on your computer or tablet to start a new project
The MONTMARTRE bedside table is an absolute winner. Its practicality means you will use it every day whilst enjoying its unbeatably stylish look. Within easy reach whenever you are in bed, it is elegant as well as discreet.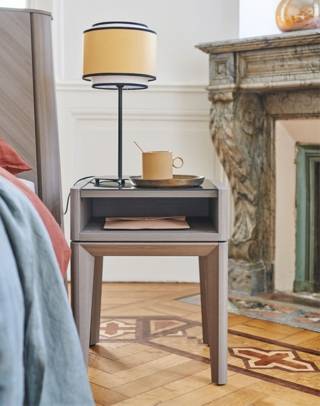 It includes a compartment for books or magazines.l
With its bold styling, the MONTMARTRE collection features textures and rounded shapes to create a stunning, modern bedroom.
The "herringbone" style and the "vintage oak" finish accentuate the elegant, timeless feel of this collection. Each element of the MONTMARTRE furniture conveys our vision of "French chic". Our dedication and audacity shine through each and every detail of our furniture to enhance your home.
Need some inspiration to find the right style?
Why you'll love our bedside tables
Our bedside tables have a style of their own
Our attractive beside tables are easy to pair with the rest of your furniture. Their immaculate finishes give them a refined, elegant look. They will bring out the best in your bedroom.
Our bedside tables are attractive and practical
We have a wide variety of free-standing and wall-mounted bedside tables designed to meet your needs and suit all spaces. They are a "smart solution", offering plenty of clever design features.
Our bedside tables offer functional good looks
Our bedside tables are functional without compromising on style. They all feature drawers with soft-close mechanisms, so will withstand your daily demands without making a sound!
Montmartre bedside table on legs