Montmartre bed
An elegant and distinctive bed
Want to see it in your home in augmented reality?
Display the 3D view on your mobile and activate augmented reality to visualise this piece of furniture in your room.
Click on the cube icon below the product image and wait until the module loads
Click on the blue icon visible on the 3D image. Soon you'll see your furniture in your room!
Bed dimensions
Finish Vintage oak
Product details
Looking for a bed with a stylish finish to create a bedroom with a really refined atmosphere? The MONTMARTRE bed is a Gautier design that showcases the ultimate in French chic. The herringbone style of the headboard instantly stands out, and each and every detail on this bed has been meticulously designed. Its elegant legs and vintage oak finish add a dash of modern romanticism. Combined with other elements from the same collection such as bedside tables, a dressing table or tall chest, it creates a distinctive bedroom filled with characterful furniture.
Features and dimensions
Reference
1B80103
Materials
Bedside tables, mattress and box spring not included
Frame and fronts made from particleboard covered with vintage oak melamine. Edges: flat or 1 mm thick vintage oak ABS. Surround and headboard mouldings made from fibreboard covered with vintage oak foil. Fibreboard legs covered with vintage oak foil. Fibreboard drawer frames covered with vintage oak foil. Height-adjustable hidden runners with soft-close mechanism. All furniture is self-assembly except where marked * (fully assembled with possible exception of handles, floor protectors and castors).
Details
Materials
Particleboard
Assembly
Meuble à monter soi-même
Weight
59 kg
Dimensions
W. 157 cm * H. 108 cm * D. 213 cm
Package sizes
Package 1: 23 x 13 x 193 cm (20 kg)
Package 2: 75 x 9 x 159 cm (22 kg)
Package 3: 19 x 9 x 208 cm (17 kg)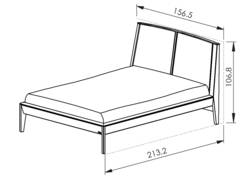 Download assembly instructions
Origin : France
Manufacturer: Gautier
Origin: France
Ideal with
Find out more about this product
Continue on your computer or tablet to start a new project
The MONTMARTRE bed is a decidedly distinctive piece with its unusual, elegant finishes. It brings added style to your bedroom and blends in easily with any contemporary decor.
The raised legs on this bed add interest to the look.
With its bold styling, the MONTMARTRE collection features textures and rounded shapes to create a stunning, modern bedroom.
The "herringbone" style and the "vintage oak" finish accentuate the elegant, timeless feel of this collection. Each element of the MONTMARTRE furniture conveys our vision of "French chic". Our dedication and audacity shine through each and every detail of our furniture to enhance your home.
Need some inspiration to find the right style?
Why will you love our beds?
Hygienic, comfortable beds
You can rely on our contemporary carpentry expertise! Our beds are perfectly designed to meet all your requirements in terms of sturdiness and comfort. Our beds set the tone and effortlessly create that stylish, restful feel you would expect from a bedroom.
A piece of furniture that plays a central role in a bedroom's decor
Our unique attention to detail extends right down to the smallest trims. Comfortably snuggled under your duvet, you'll appreciate the stylish look of our beds which are traditional as well as contemporary.
Practical beds to make life easier
The optional parts to add to our beds mean you can let your imagination run wild to create a simple room with a light, airy feel that's perfect for a great night's sleep. Try to maximise all your available space by choosing drawers to slide underneath your beds.
We will help you complete
our bedroom
Seen something that grabs your attention?
We thought you might
like these products